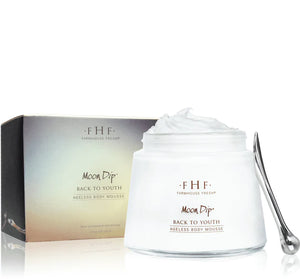 What it is: A magnificent weightless whip that is so billowy and other-worldly, with a gorgeous, powder-soft texture that is simply magical - and includes a powerhouse blend of age-fighting ingredients like firming peptides & retinol normally reserved for precious facial treatments.

Why you'll love it: It melts effortlessly into skin, and visibly firms skin's look over time. The lovely soft, warm scent of milk & oats is a universal favorite! 

What fans say: "What a great product to lift you up through your sense of smell and feel. You won't be sorry if you get this product!." Read more reviews below.

Moon Dip® loves neck lines and sun-kissed chests, arms, and legs, smoothing the look of wrinkles and dull, uneven textures. Its 
formula is boosted by vitamin-rich emollient oils that lock in hydration and suppleness so your body gets back to its youth, with every swipe of the hand.