Our Story
Hey and welcome to our fun and unique boutique! We specialize in women's clothing sizes small - 3x, trendy accessories, unique gifts and all of the other girly things that you can't find just anywhere. Our goal is to provide you with all of the latest fashion trends with quality and comfort in mind. We believe that if it looks good and feels good then it is good! A little retail therapy is great for the soul and it is my hope that you love our fabulous finds and become a loyal customer!
I am married to the love of my life, Jason aka Elvis, lol. We have two amazing sons, Jaden & Dylan which we thank God for daily. I have been blessed beyond belief and was able to be a stay at home mom for the past 11 years which I am very grateful for. I believe that spending time with your kids and building foundations is very important. However, we blinked and my baby is approaching High School and my oldest baby is a senior this year.
As most of you know I lost my absolute best friend and momma, "Frankie" on Christmas day 2018. She knew me like no one else. She knew that my dream and goal in life was to one day have my very own business. She always told me, "you can do anything that you put your mind to". With her lifelong words of encouragement and her undying love I am ready for this new journey in my life and I feel honored to do it in her namesake. Thank you for being part of our journey and making my dream come true!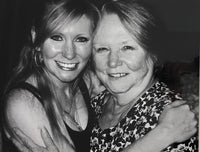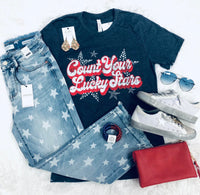 FOLLOW OUR SOCIAL MEDIA!
Get some fashion inspiration on our Facebook, Instagram, and TikTok pages! We post Outfit Of The Day posts to help you find the perfect outfit!
WE LOVE OUR CUSTOMERS! They ARE THE BEST!
Omgggggg THE BEST and ONLY locally owned boutique to shop in Cabarrus County!! If you have not shopped at Frankie J's and met the owner Tammy and her friends you are definitely missing out!! Would not shop locally or for clothes anywhere else and I've been to some other boutiques, Frankie J's beats them hands down, not only for their professionalism and great deals but because of just who Tammy and her staff are and how they treat you the minute you walk in the door, just like family!!! If you have not been you need to go!! ❤


Ashley Johnson
Amazing Quality! Undeniable Customer Service! Friendly relaxed environment, while you shop for the most comfortable clothes, already picked as outfits, as entire lines, just for YOU! What's not to LOVE?

Catherine Rosso - Terwilliger
QUALITY items!! This is a very unique boutique added to the concord area but still has something for everyone. A must try.

Jordan Byrd Steinbacher
Tammy and her staff are super friendly. They make you feel like you have known them forever. Good selection of clothes, jewelry, personal items and much more. Cute shop and convenient.

Tiffany White
Best clothes, best owner, and best boutique ever!

Taylor Hopkins
These clothes do not disappoint and the shipping is super fast.

Stephanie Holsen
Awesome people great clothes!

Amanda Campbell Spears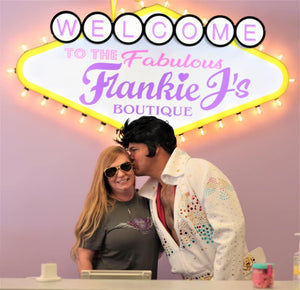 There is a "Whole Lotta Shakin" going on at Frankie J's!
We are all about FUN! When Elvis shows up at Frankie J's he does GIVEAWAYS!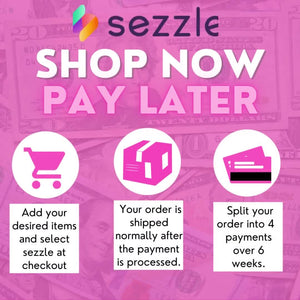 Add to your cart with no stress thanks to Sezzle!
Make an account with Sezzle and start shopping instantly!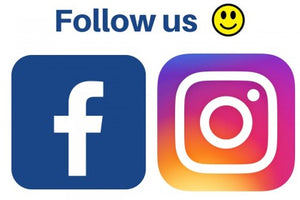 Never Miss Out On The Fun!
Be sure to like our business page on Facebook and join our Frankie J's Boutique VIP Group  so you don't miss out on contest, new arrivals and more. Follow us on Instagram too!
Return Policy
Regular priced items must be returned within 10 days from date of purchase. Items must be in NEW condition with no stains, no pet hair, and must be smoke free. All returns will receive store credit equal to original purchase amount. No Refunds! All sale priced items are FINAL and can not be returned.