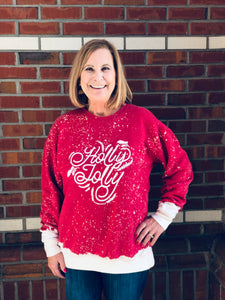 We love the idea of cozying up in this amazing bleach splattered sweatshirt from Southern Bliss this Christmas season, sisters! 
 We love this relaxed festive sweatshirt sooooooo much! You can look FABULOUS, Holly, and Jolly!!!
 This sweatshirt is perfect for wearing on its own with leggings and hu Shop sneakers or we also love it layered under a shacket with Judy Blue jeans and boots!