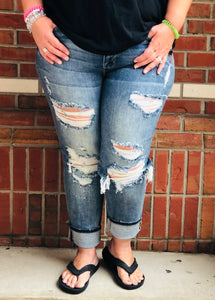 Oh Sisters, Judy Blue has brought back the best seller boyfriend in a different wash!!!! These are not a want, they are a need!  These FABULOUS  medium wash jeans, are mid rise and boyfriend fit! It features some bleach splash along with the distressed all over the jeans, it's the perfect match! They are really comfortable since the boyfriend style has a looser fit, and it's also really stretchy! They are originally cuffed but you can wear uncuffed as well, both ways you will look incredible pretty!! You will have so much fun pairing these jeans into outfits, they are perfect to wear all year around with no doubt!! You will love them!!!
93% Cotton/ 6% Polyester/ 1% Spandex
Mid Rise 9.5"
Inseam 30" 


Sizes 1-15:
Inseam Cuffed: 26 1/2''
Inseam Un-cuffed: 29 1/2


Rise: 10 3/4"

Sizes 14W-24W


Inseam Cuffed: 26 1/2''




Inseam Un-cuffed: 30''




Rise: 13 1/4''
To determine the best size for you in Judy Blue jeans, take your typical department store size and go down by one. For instance, if you wear a size 6 in department store sizing, you would be a size 5 in Judy Blue jeans.